Recent Posts:
Register
to support HTML-Kit and get Tools
Where to Find Plugins
HTML-Kit Plugins make it easier to customize and add new features to HTML-Kit Tools. All plugin types in HTML-Kit Tools can be accessed using the plugin icon drop-down on the Actions Bar.
How to Install Plugins
To install ready-made plugins, select "Tools > Install Plugins" from the main menu or click the plugin icon on the Actions Bar. The plugins page for HTML-Kit Tools is located at http://www.html-kit.com/tools/plugins/
Play Video: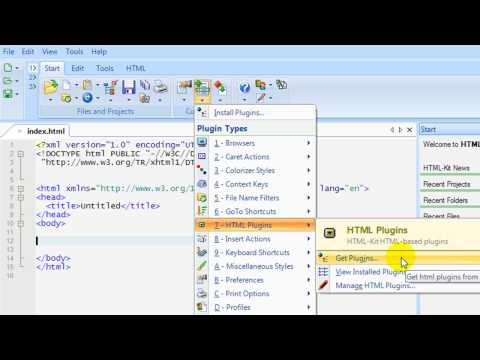 Managing Plugins
One of the new features in HTML-Kit Tools is the ability to view, edit and install plugins, all without having to leave or restart HTML-Kit. Each plugin type has its own Plugin Manager. Select the plugin type on the plugin drop-down for quick access to the plugin manager. The checkboxes next to plugin items in plugin managers can be used to hide or disable a particular plugin without actually deleting it. This also makes it possible to keep multiple versions of a plugin for testing and trying out new releases.
Editing Plugins
The editor panel inside plugin managers can be used to make changes to plugins. If a plugin is too large to be edited inside the plugin manager, it's possible to edit plugins in the main editor as described below:
Select "File > Projects > Create Plugin Project" from the main menu.
Click "OK" to create a new project.
Open "Plugin Folders" in the newly created project. Each plugin type will be listed in a separate folder. Double click as usual to edit a plugin in the main HTML-Kit editor.
Your First Plugin
New to creating plugins in HTML-Kit Tools? Why not start with a snippet plugin and see how it appears in the Snippet Manager.
Play Video: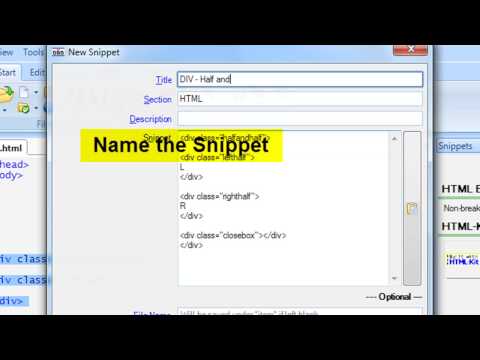 Demo Plugins
To get a jump start on developing plugins, take a look at HTML-Kit's default plugins inside plugin managers.
Following is a list of additional plugins that demonstrate how to perform specific actions in HTML-Kit Tools.
Interim HTML-Kit Tools Updates
In addition to the regular HTML-Kit Tools updates, interim updates are available to plugin developers for testing new plugin related features. These updates are commonly referred to as "test versions" and can be found in "Downloads > HTML-Kit Tests" section of the HTML-Kit User Assistant.
Related Pages
Publishing on the Plugins Page
Have you written a plugin that others may find useful? If you find your plugin useful, chances are someone else will too. To publish your plugin:
Open the plugin manager and select your plugin
Change to the "HTML-Kit Tools Plugins" tab
Click "Upload Plugin"
When you publish a plugin for the first time, you can optionally say something about yourself so that your plugin users can get to know you a little bit. You can mention your work experience (or if you're currently looking for work), talk about what you do for fun and/or include a picture. Feel free to email this information once you submit your plugin.
Displaying a Donate Button on Your Plugin Pages
When you publish your plugin on the Plugins Page, you can optionally display a button for accepting donations. To enable the ability to accept donations, generate a PayPal Donate Button and send the HTML code to be included on your plugin pages.
All donations will be between you and your plugin users who decide to make a donation, and 100% of the donation will go directly to your account. In other words, these donations go to you as a plugin author and the HTML-Kit site is not affiliated with or keep a percentage of donations.
Getting Answers
Have a question that's not answers here? Support forums are available to answer any questions you may have.